Service & Maintenance
Nationwide Support on All Products
We offer service support on all our clean energy products nationwide, from California to Maine. This unique and established service infrastructure has been an essential part of our growth and success through the years.
Factory Service Programs
Good factory support options allow our customers to focus on their core missions and businesses. Factory service also keeps us in close touch with customers, their specific site issues and the equipment itself, so we're always learning and can be sure the system is well taken care of.
Customers can choose from a variety of service programs, from "time and materials" only, to complete comprehensive "bumper to bumper" coverage.
Our factory service centers are located in Massachusetts, Connecticut, New York City, New York State, New Jersey, Florida, Michigan, Los Angeles, San Francisco and Toronto. Providing service to over 3,500 units, Area Supervisors make sure that every technician has a supply of locally stocked parts and is well trained. Our Field Service Technicians are dedicated to working on our products, and no one else's. Service Centers hold a variety of state licenses for general, plumbing, electrical and refrigeration contracting, as well.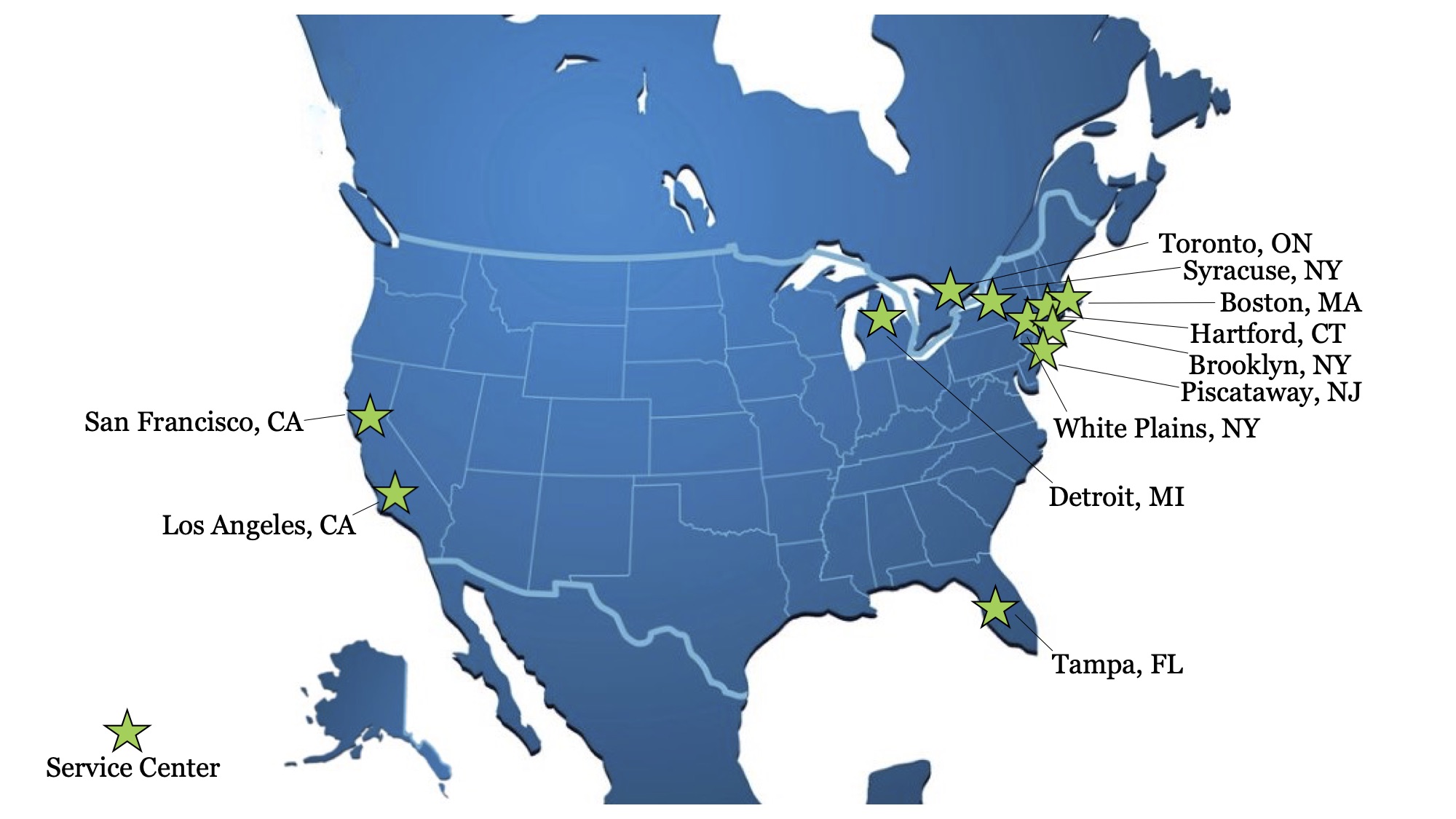 Continuous Monitoring
All of our cogeneration products are equipped with a Remote Monitoring and Control System (RMCS) or CHPInsight. Our systems automatically monitor and notify site operating staff and factory service personnel to ensure seamless maintenance and optimal performance. To learn more about our cloud-based performance and maintenance monitoring, click here.
Parts Support
To better serve customers, Tecogen stocks a full spare parts inventory for its cogeneration and chiller products at all local Tecogen factory service offices coast to coast, and at its headquarters in Massachusetts - allowing customers and local service technicians to obtain special parts quickly nearby, for any unexpected repairs.
For parts support, please feel free to contact Tecogen's Parts Department anytime or any of our local service offices. Tecogen offers a toll-free number (800) 678-0550, then press 5 for Parts, to make it easy to quickly order the parts needed.
Flexible Service Programs
Many of our popular service programs are completely comprehensive ("soup-to-nuts") and cover much more than conventional warranties do. Such programs basically cover anything required by the "blue box" (i.e., the cogen unit or chiller), including:
All scheduled maintenance (preventative maintenance, or P.M., including oil changes, plugs, tune-ups, etc.)
All unscheduled service
All major parts replacements, including engine/ generator/ compressor replacements, as needed
All parts, labor, mileage, and consumables
Coverage of both defects and normal wear-and-tear
Typical contract terms are three to five years, but other terms are available. Factory service support is also available on a less comprehensive "time and materials" basis, and by phone. All factory field service work is performed by our locally based, fully trained, and dedicated factory technicians. Work is done by us, the manufacturer, and not by third parties.
Many of our service agreements are structured so that maintenance charges are based on the system's actual run-hours. This simple approach ensures that our customers' interests and ours are always aligned. In other words, if our units aren't operating, then no charges are incurred. Maintenance billings are completely linked to actual run-time, which is a fair way to structure the charges. If the system runs a lot, then the periodic service bill goes up. If the system runs less or is off, then the maintenance charges go down. This method guarantees that the energy cost savings a customer receives from the system are always much greater than the maintenance charges.
To put a maintenance program into effect, a customer simply needs to sign an agreement and return it to us.